A nun reader's Guide :My 5 favorite books . Part1
It's day #5 of Alex feel good blogging challenge #A helpfully post.
Today is kinda sad it almost the end of this great blogging challenge awww.
By now you guys no i don't like to read because i get bored. these are a few  engaging books that i love.
Are You there god? its me Margaret.
This is a book i read as  a young teen and ti absolutely love it and remember it to this day. it  about  this girl talking about her journey to puberty. fun fact even thought this book is mainly for girls i gave a guy i liked in school  to read and he enjoyed it too i guess reading about a girls period intrigued him at 12 years.
The little Book of Business Wisdow ( Rules of success from more than 50 business legends ):Peter Krass
This book is my baby i keep going back to it time and time again  for business advice quotes. If your a entrepreneur/ business person/blogger   go get this book.it's such a easy read but pack from a great advice. A must have…A must read…
Think and Grow Rich by Napoleon Hill
I saw this book at my dads house and was so drawn to it. when i skim through it, i didn't want to start reading it only because i wouldn't for been able to put it down. since i didn't want to steal another one of my dads books i said i buy my own. ironically this was also recommended by an awesome YouTuber Amy Schmittauer. check her channel out.
So this book is on the top of my list to get i can wait to read it.
Getting Rich Your Own Way :Brian Tracy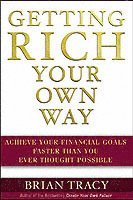 This is another great business /entrepreneurial book with lots of great steps advice  and to follow. it is like a business work book with  great work sheets inside the book. this is another good go to fundamental business book.love love love it……………
And my fifth and final book well that's gonna come from u .
Leave a comment recommending one of your favorite book you think  i should read.
Social Media Callaloo love you. Reach for the moon  the least you can do is fall among the stars.